BELTED CHAIN AND COMPONENTS
AG-Webs' product offerings include both Belted Chains and a complete line of Sprockets, Rollers, Rods and Flites. Agricultural Distributing Inc. is California's original Belted Chain manufacturer with the largest and most complete inventory on the Pacific Coast. Our service and product offerings include custom fabrication, unique applications, and specialty chains.
BELTED CHAIN QUALITIES
Belted chain takes on many unique features. The methods of drive include rod driven sprocket (positive), and belt driven which includes high profile belt drive and friction drive. Chains vary in width from 9 to 90 inches. The rod diameter covers the range of 5/16 to 5/8 inch. The gapping between rods on wide belts is maintained using additional center belts. The air gap between rods can vary from 3/16 of an inch to as much as 6 inches or more. The rods may be "cranked" up or down and used in various patterns to create holding pockets. The rods may be covered with soft rubber to prevent "bruising" or with hard rubber or split PVC to reduce the air gap. Molded rubber flites can be added for elevating. Belted chain can be designed and adapted to fulfill the requirements of nearly any harvesting and product handling need.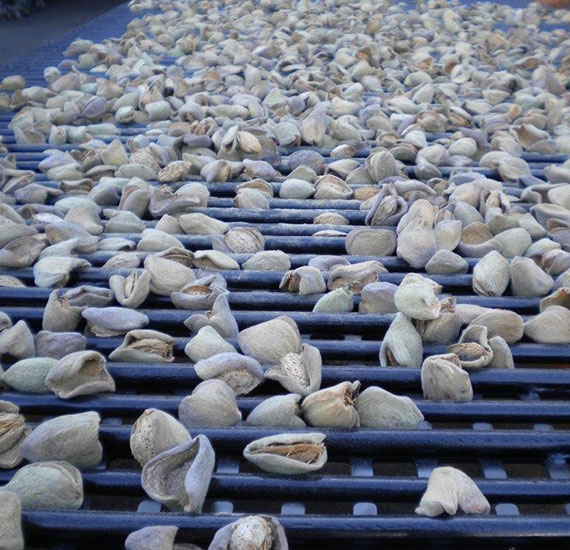 BELTED CHAIN COMPONENTS
We have dealers throughout Greater California.
Give us a call Toll-Free at 1-800-445-9327, and we will refer you to the closest one.
CONTACT INFORMATION
Our knowledgeable staff will assist you in product application and dealer contact information.
GENERAL CONTACTS
---
SALES:
Tony Bradshaw
TBradshaw@agwebs.com
Tom Diaz
TDiaz@agwebs.com
---
MANAGEMENT:
General Manager: Joel Diaz
Production Supervisor: Rolando Beltran
Se Habla Español
---
OUR LOCATION:
Agricultural Distributing Inc.
665 North Pioneer Avenue
Woodland, CA 95776